(located across the street from Braddock campus) Top Valu has a great program to benefit Friends of Braddock with a straight 3% (on up to $150 spent) or 5% (for over $150 spent) on monthly spendings).
How to participate: Pick up KV Mart Community Card in Magnet Office.
It's Easy… just shop, swipe your card & earn!
Giving more back to the community!
Ralphs is committed to helping our communities grow and prosper. Year after year, local schools, churches and other non-profit organizations earn millions of dollars through our Community Contributions Program.
The Ralphs Community Contribution Program was designed to make your fundraising the easiest in town by simply using your Ralphs rewards Card.
Do you shop at Ralph's Grocery Store? Are you a Ralph's Club Member? If so, you could earn money for our school by using your Ralph's Club Card when you shop. Sign up for Ralph's Community Contribution Program. Make sure to choose "Friends of Braddock Drive Gifted Magnet School" as the beneficiary. Note: you need to re-link your card to FOB on September 1st or later of each school year.
How to participate: Join online or pick up card in Magnet Office.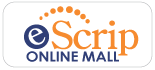 The eScrip Online Mall is a collection of over 1,000 online merchants where Braddock Gifted Magnet families can shop online at the same websites you have come to know and trust. A percentage of all purchases will benefit Friends of Braddock Magnet.